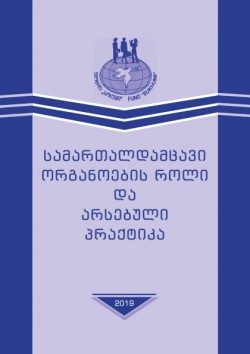 "The role of law protecting structures and existing practice" - monitoring of the changes made against domestic violence and violence against women". This is the name of the article published in the Fund" Sukhumi". The materials of monitoring conducted on a small scale with local structures of the Ministry of Internal Affairs are used in the publication. In frames of the cabinet research, the existing legislative framework was analyzed.
The monitoring showed visible progress made by the Ministry of Internal affairs in combating violence against women / domestic violence. And also - certain challenges, for overcoming of which the recommendations are presented at the end of the publication.
The members of the Tbilisi representation of the Fund "Sukhumi" and the monitoring group of Kutaisi head office worked on the research.
The project is implemented with the support of the organization Brot
für die Welt – Evangelischer Entwicklunsdienst (Germany)