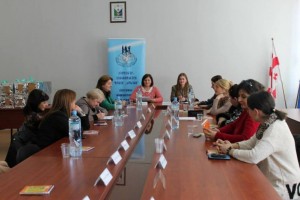 Women Support Center of fund "Sukhumi" conducted round table in conference hall of Senaki Sakrebulo with participation of the members of local self-government, Sakrebulo and Gamgeoba.
Information was announced regarding history of women solidarity day, gender situation in Georgia, violation problems, women discrimination.
Conversation touched the work of WSC in Senaki, results and successful examples.
During round table there were fixed recommendations for solution of violation against women, prevention and victims' protection.
The project is implemented with the support of the organization Brot
für die Welt – Evangelischer Entwicklunsdienst (Germany)