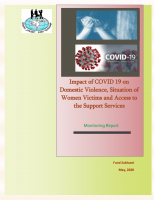 Fund "Sukhumi"' has published its new monitoring Report - "Impact of COVID-19 on Domestic Violence, Situation of Women Victims and the Access to the Support Services". The Report reflects the major problems and challenges faced by women and girls living within Fund "Sukhumi""s eleven target municipalities in the context of COVID-19 pandemic.
The results of the Monitoring have clearly proved that Pandemic has significantly aggravated women's situations. It has not only worsen the already dire condition of women victims of domestic violence but also has revealed the potential abusers. The situation of women who had been able to escape from the abusers and leave the violent environment in the past, has been also considerably deteriorated due to COVID-19.
The existing challenges require timely response and proactive actions by the government, especially in the regions, with active cooperation and involvement of the relevant civil society organizations. The report provides specific recommendations on appropriate response to mitigate the negative effects.
Report is published in two languages - Georgian and English.

The project is implemented with the support of the organization Brot
für die Welt - Evangelischer Entwicklunsdienst (Germany)