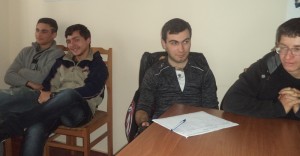 On March 5, 6 and 16 consultations of the psychologist were held in WSCs of Tskaltubo, Poti and Khoni with participation of 24 people.
The issue of the meeting was influence of traditional culture on psycho-sexual health, the aim was informing the owmen and working on their awareness for psycho-sexual health.
In Khoni also two individual meetings were hels for private problem solution and accepting rational decisions.
The project is implemented with the support of the organization Brot
für die Welt – Evangelischer Entwicklunsdienst (Germany)