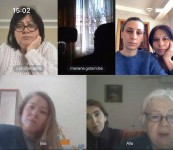 Despite state of Emergencies declared in Georgia due to the Covid-19 virus, the Fund "Sukhumi" continues implementation of the project "Online Voice Electronic Counter for Parliamentary Elections 2020" supported by the International Visegrad Fund.
The project team switched to online-work mode. An advocacy strategy was developed, which outlines detailed ways and approaches for cooperation with political parties, as well as a specific action plan for informing citizens about the "online Voting Meter" enhancing their electoral activity.
In response to the current challenges, the advocacy strategy sets out an action plan for online/distant cooperation with political parties and citizens, defines specific state institutions, decision makers, civil society representatives with whom Fund Sukhumi will actively cooperate and pursue achievement of the project goals and objectives – raising awareness of citizens in electoral process and programs/platforms of political parties and to the best possible extent ensure their participation in the 2020 parliamentary elections.
The project is implemented with the support of the Visegrad Fund