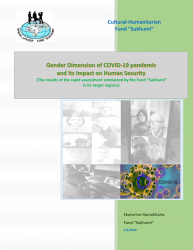 The Fund "Sukhumi" presents a new publication, "The Gender Dimension of the COVID-19 Pandemic and Its Impact on Human Security", outlining the key challenges and problems faced by our beneficiaries, especially women and girls.
The rapid assessment aimed at exploring and studying the main problems and gender needs caused by the COVID-19 in the lives of the organization's beneficiaries and developing an appropriate and timely response strategy.
The rapid assessment analysis is published in two languages - Georgian and English.